Have you ever lost your cute groove? Your fashion want-to?
For a while now, I've lost the will to make an effort with myself.
To be clear, I haven't turned into a Pigpen-style cloud of stinkiness (though he was my favorite Peanuts character), but I've let smaller things slide. For the sake of understanding, I decided to break down a few things that may have led me into not-quite-Pigpen-dom:
first: maybe everyone goes through it as a rite of passage when you're getting older and transitioning from young adult to very-adulty-adult. When you're a young adult (I'll say recent graduate to 28-29), you have an event to go to every. single. weekend. At first, there are a zillion wedding showers, bachelorette parties (and a bachelor party, in my case), and weddings, and later on, you have approximately 4,397 baby showers filling your Saturday afternoons.
After that, it gets a little sparse. You're expected to do good things for the community, and some of those things have events that require some fashion-y effort, but for the most part, outside of a few "hooray, I'm divorced!" get-togethers, you hit a dry spell. It's Netflix nights and McDonald's dinners for you.
then: I've had issues with anxiety and depression (I've been pretty open about it, while acknowledging that many, many people have it much, much worse than I do), and I wholeheartedly believe that played into it as well. It's no different than feeling down when you're physically ill. When your body feels bad, the last thing you want to do is get up out of bed and do your hair and put on makeup and pick out an outfit with for-real hard-pants — and the same goes for when your mind and soul feel sick.
It may be even worse when you're soulsick because you aren't able to reconcile your feelings. You don't have a fever or a snotty nose, but you feel so badly that it's hard to imagine putting effort into anything that isn't absolutely necessary. For lack of a better term, you give up a little when you don't feel like yourself (I know, I'm sure "giving up" makes it sound much more dramatic than it actually is, but I trust y'all understand what I mean). And it's a self-perpetuating cycle, because when you see yourself looking like someone different, you feel even worse.
plus: I've been making a huge effort to pay down my debt, which doesn't leave much disposable income for things like on-a-whim clothing and cute new shoes. Which is okay, because I do find a lot of joy in seeing my numbers creep down, but I think there has to be some sort of balance, even if the "balance" is wonky and one-sided — my see-saw wouldn't be even between debt payoff and clothing, but it's worth a 85/15 split, right?
finally: getting older can be a real pain in the ass, and that's never more true than when your metabolism screeches to a grinding halt and your pants get tighter. It really throws you for a loop because you don't want an entirely new wardrobe for a body that you feel uncomfortable in, but you can't go to work nekkid.
Remember this scene from Mean Girls?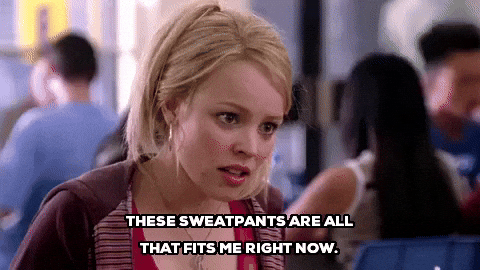 I feel for Regina George, y'all. Every single feeler I got feels for this. It drained her from her confidence (which was arguably arrogance, but whatever). Having a closet of cute clothes that don't look the same as they used to can take a toll on your mind, and I really don't care if that sounds silly or shallow. When your hard-pants don't button, it messes with your desire to even try.
And I can't even blame it on Cal-Teen bars.
SO: I'm older and fluffier (but getting less fluffy!), and I'm feeling a lot better in the mind. It's hard to break what has become a daily routine, though, and that's where I've caught myself lately. When you get used to doing something, no matter what the reasons may be for doing, you tend to continue doing it, even if the reasons for doing it disappear.
(have I confused y'all yet? I'm really overthinking this)
I used to blog a little about what I wore, and I really enjoyed that. Setting the record straight, I was never in any way a style blogger or a fashionista; I simply shared clothes I was buying that I thought others might like. I miss that — especially scouring local places like Riffraff, Impressions, Maude, etc. for cute looks that could transition between casual and professional. I hate to keep using my blog as a means for accountability, but hey, if it works, it works! I'd like to try that again. How Ty got her fashion groove back.
To get me started, my parents got me some really cute scalloped shorts from J. Crew for my birthday and I'm a little obsessed with them. Easter egg hunting this weekend, anyone?
If you've made it this far, you deserve a medal for getting through what was undoubtedly a #rambleblog.
Can y'all relate to this? Or is it just me?